Sales Vacancy at KEW Chichester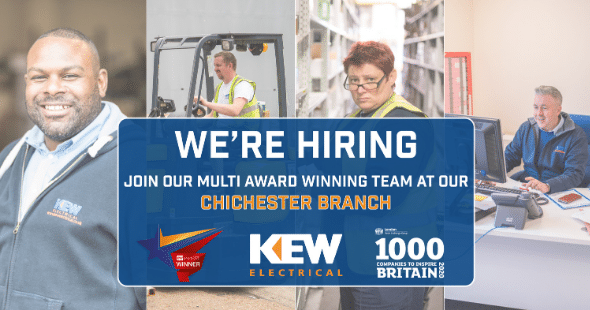 THIS VACANCY HAS NOW BEEN FILLED. LOOK AT OUR LATEST VACANCIES IN 'NEWS'
We're looking for an internal sales person to join our award-winning team in Chichester, West Sussex.
KEY RESPONSIBILITIES:
Answer the telephone, taking enquiries and orders plus processing, responding to and chasing quotes and orders. Also assisting customers both on the telephone and face to face with quotations, product information and pricing queries.
Contact suppliers to negotiate special terms for large one off orders or quotes.
Maintain and develop existing and new customers through appropriate propositions and sales methods, to optimise quality of service, business growth and customer satisfaction/loyalty.
Undertake proactive call outs to dormant account holders and seek potential new accounts by searching info available on websites such as NIC of Napit. Assist when required in the      Stores/Warehouse.
Adhere to company safety policy and other requirements relating to care of equipment including keeping the trade counter and work area clean and tidy.
KNOWLEDGE, SKILLS AND EXPERIENCE:
Previous sales experience, preferably within an Electrical Wholesale environment.
Self-driven, results oriented with a positive outlook and clear focus on high quality and business profit
A natural forward planner who assesses own performance
Knowledge of computerised systems.
Good communication and negotiation skills.
COMPLEXITY AND CREATIVITY – PROBLEM SOLVING:
Work is focussed on increasing profits. Problems may be complex and solutions require a high degree of creativity, with an understanding of principles of marketing, selling and costs both face to face and on the telephone. Difficult problems should be referred to the manager. Problems may be both customer and staff related.
JUDGEMENTS AND DECISIONS – ADVICE:
The job holder generally works unsupervised on a day to day basis, with regular reviews with the Manager as necessary.
FINANCIAL INFORMATION:
Able to understand basic business finance.
CONTACTS AND COMMUNICATIONS:
Frequent external and internal contact with customers and staff.
SPECIAL FEATURES:
May have to work outside of normal business hours to fulfil work commitments.
If you are interested in applying for the above role, please contact our HR Department.