Canterbury Easter Promotion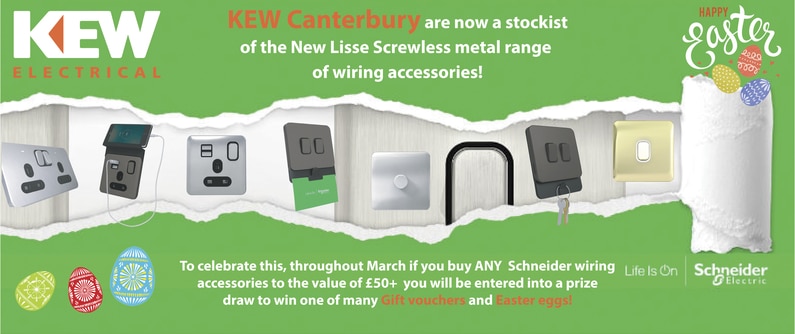 KEW Canterbury are now proud stockists of the new Lisse Screwless, metal range of accessories from Schneider. To celebrate, buy ANY Schneider wiring accessories to the value of £50 plus, and we'll enter you in to our prize draw. Offer runs throughout March.
The smooth, modern lines of Lisse Screwless Deco offer an understated elegance to compliment today's interiors.
Whatever your taste, you can express your personal sense of style in the home down to the finest detail through the comprehensive range of finishes Lisse Screwless Deco  has to offer.
Ideally suited for new construction and refurbishment projects
Future-proofed to cater for the latest demands in consumer technology
Painting and Decorating made easy by the unique Screwless design and clipping system
Cleverly designed to ensure that product ordering is simple and efficient, with many time and space saving solutions
Crafted with your customer in mind, adding bespoke solutions to make a lasting impact