How the West is being won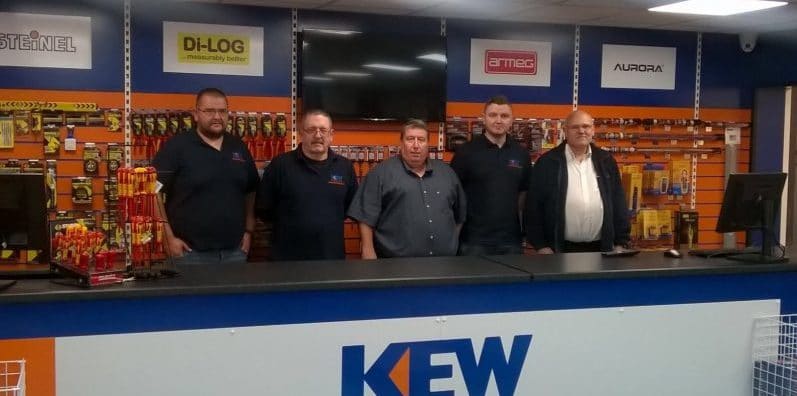 Award-winning electrical wholesaler KEW Electrical has opened a new branch in Gloucester – a move that has wider implications for the future of the company as it expands its distribution infrastructure further west.
Gloucester is a great location for the company, which prides itself on its small company ethos – even though it now has a network of 23 branches, more than 320 staff and an annual turnover of £74 million. Operations director Nik Mulcahy says: "If we talk about Gloucester in terms of the Kew business model, it's a textbook business opportunity. The Gloucester/Cheltenham area is predominantly serviced by nationals. As an independent, we are more responsive – we make quick decisions.
"We've also found a textbook location on a large trading estate. It's prominent, it's accessible, and there are other wholesalers around, so there's a footfall of contractors already."
Most importantly, says Mulcahy, "we've secured Steve Blick as the manager". Blick comes with 30 years of local knowledge and experience. "He's got a loyal and experienced staff and customer following. When we are loaning money – we are loaning credit accounts effectively – we can't just rely on Companies House information, we need local knowledge to help us make decisions."
However, it is the changes that Kew has made to its distribution infrastructure to service the new branch that are laying the foundations for the company's future.
"Our business model links into Brighton as a distribution centre," Mulcahy explains. "All the branches are serviced by the stock in the distribution centre in Brighton. We have local stock, but we have a company holding in Brighton, which we mobilise through link vans. They pick up from Brighton in the morning and they do a fixed route every day to ship products between branches.
"Gloucester is too far to service from Brighton, so we've had to invest in the business to create a 'West Country platform'. Trowbridge, which is our largest location on that side of the country, is now a regional distribution centre, not just a branch. We've added more link vans to accommodate the geography and the distance. We've got one based in Trowbridge and we've linked Brighton to Trowbridge overnight."
Mulcahy says the changes have expanded Kew's target area for growth: "We have a springboard to a wider geography now. The investment we've made to service the one branch has really made us think about the next few years and how the company will grow."
He adds: "There's plenty of opportunity as we spread west, and Gloucester is also on the southern fringe of the Midlands…" But, he cautions: "It's essential that we keep to our company ethos, which is about loyal staff and loyal customers."
The full details of the new branch are:
Kew Electrical
Unit 4
Eastern Avenue Trading Estate
Gloucester
GL4 3SJ
Tel: 01452 904320