KEW Dartford – Lux General 3D Lite Vision Range Panels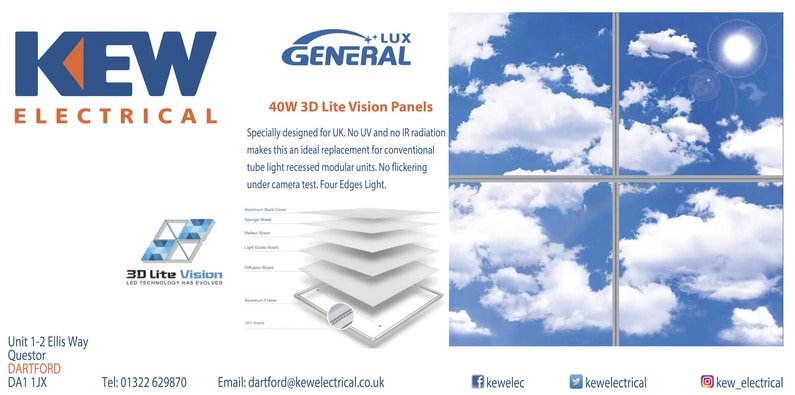 Contact KEW Dartford for some great offers on their product of the month – The Lux General Lighting Set of 4 3D Lite Vision Range Panels are an ideal replacement for standard fluorescent lights whilst offering maintenance free peace of mind and fantastic energy saving benefits.
As well as providing a brilliant light source, the 3D Lite Vision Panel promises to brighten up any facility which would benefit from it's calm, soothing 3D Imagery, whether this be a dull workplace with no natural light, a place of education, waiting rooms or sensory rooms the applications to this amazing revolutionary light panel is endless.
Various mounting options including recessed, surface and wall mount kits, the 3D Lite Vision Panel is suitable for any application.
Sold uniquely in sets of 4 the 3D Lite Vision Panels create the perfect ambiance to brighten up anyone's day
Specially designed for UK. No UV and no IR radiation,
Ideal replacement for conventional tube light recessed modular units.
No flickering under camera test.
Four Edges Light.
Specifications
220V-240V 50/60Hz
Rated load: 40W
Light Colour: 6500K
Lumen: 3200lm
Life time: 30000h
Size: 595 x 595 x 11mm
5yr Warranty