The Phoebe LED Spectrum downlight – available at KEW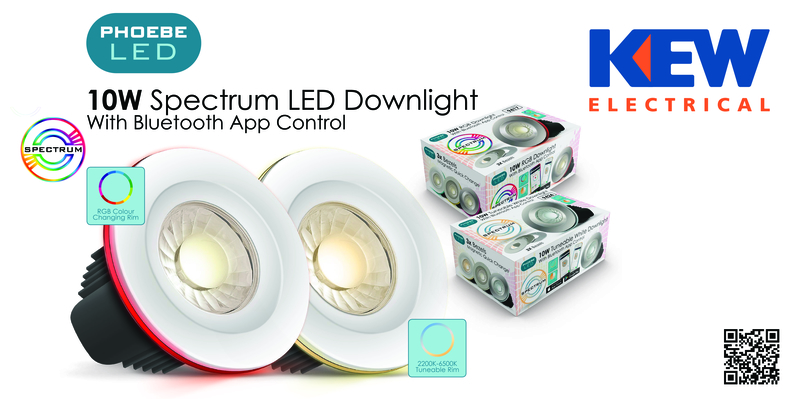 Tuneable-white downlight with ambient halo-light rim and bluetooth app control. Available with either full spectrum RGB halo-light rim or tuneable white halo-light rim.
The Phoebe LED Spectrum downlight is supplied with 3 bezels that feature a magnetic fastener for quick removal or change. Stylised in white, chrome and brushed aluminium, they simply pull away from the fitting giving the user the ability to change the look of the downlight with minimum effort.
WATCH THE VIDEO HERE
The centre spotlight has a beam angle of 40° and is tuneable from 2200K extra warm white all the way through to 6500K daylight. It can also be fully dimmed from the smartphone control app.
The RGB version has a full spectrum colour changing halo-light rim – which allows for some stunning lighting scenes to be created. The tuneable-white version has a halo-light rim with a tuneable-white colour to emphasise the colour of the main spotlight.
The smartphone app can be downloaded from Google Play for Android devices, or App Store for Apple iPhone's. The app gives full control of the all the Spectrum downlight features and includes the ability to set-up multiple smartphone devices for multi-user control. It allows control all the Spectrum downlights in a building by allowing the user to add lights into groups (i.e. living room, bedroom) – or the group feature can be used to control specific lights in a room and create multi-colour displays. The app also features the ability to set-up events to automatically turn on/off, colour change, or dim lights according to a dame/day schedule.
• 10W energy efficient tuneable white downlight with integrated LED
• IP65 rated – suitable for bathroom zones 1 and 2.
• 30, 60 and 90 minute fire rated
• 50,000 hour life
• 100,000 switching cycles
• 2200K extra warm white to 6500K daylight colour temperature
• Stunning halo-light rim available in RGB or tuneable white
• Fully dimmable from smartphone app
• Cut out dimension: 67mm – 70mm
30, 60 and 90 Minute Fire Rated:
Part L Compliant of UK Building Regulations. Part B Compliant BS476 Parts 21 and 22. Suitable for 30 minute 600mm/15mm single layer standard wallboard, 60 minute 600mm/12.5mm twin layer fibreboard and 90 minute 450mm/15mm twin layer fireboard ceilings.