Wi-Fi Socket Range Extender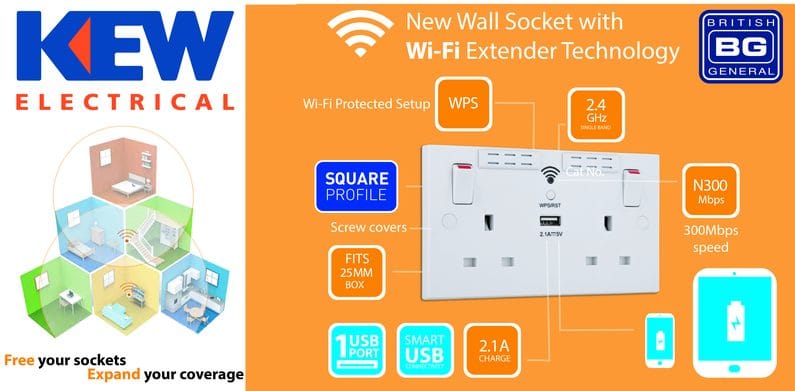 Find more details on range extenders from BG Electrical, and download the full guide
What is a Wi-Fi range extended socket?
Range extenders take your existing internet wireless signal and rebroadcast it to areas in your home and garden where Wi-Fi is weak or non-existent.
Why do I need a range extender?
If you suffer from patchy speed and stability in your home and garden, a range extender will increase the reach of your Wi-Fi signal.
How do they work?
By positioning the Wi-Fi socket halfway between your router and the area of poor reception, the range extender will relay the signal to further spread coverage. Wi-Fi socket will work with any wireless broadband router, whether your internet comes through the phone line (ADSL) or from Fibre (Fibre Optic).
Improved Wi-Fi coverage throuhout your home
Compatible with all wireless broadband routers
Easy to install and setup with one touch WPS
N300 Wi-Fi Technology – up to 300Mbps data transfer speed
Perfect for streaming music and videos or playing online games
Suitable for Computers, Tablets, Mobile Phones, Games Consoles, TVs
For more information, speak with your local KEW electrical branch.