Available from your local KEW Electrical trade counter, the PoziDry Pro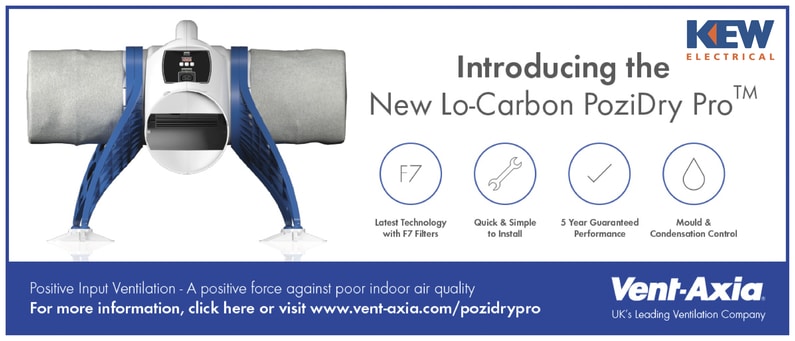 Available from your local KEW Electrical trade counter, the PoziDry Pro™ is simple to install and commission, yet highly effective at reducing condensation and mould.
Landlord
The perfect solution for hard to cure mould and condensation properties. Improving indoor air quality and preventing moisture build-up within the home. Backed up with our 5 year maintenance free guarantee.
Contractor
Tried and tested Smart Sense™ technology makes installation fast. Ready to install out of the box, with an easy carry handle to lift it though the loft hatch. A hanging kit and adjustable legs and feet are included for full installation options.
Resident
PoziDry Pro™ improves indoor air quality and quickly eradicates conditions that lead to mould growth, reducing the risk of health issues in the home. The unit is unobtrusive, near silent running and has low operating costs.
Features:
Anti-vibration Legs offer flexibility when fitting and guarantee silent running.
Flexible Feet – allow the PoziDry Pro™ to be installed across two joists or along joist offering simple easy installation
Moulded Handle – Makes carrying PoziDry Pro™ safe and simple. The handle also allows you to change the pitch of the PIV if hanging kit is used
Filters- PoziDry Pro™ is unique in offering F7 filters which filter down to PM2.5 which includes harmful diesel particulates
Smart Efficient Heater – The efficient heater can be flexibly mounted at the unit or at the diffuser increasing the heater entering the habitable areas by 4c
Smart Sense™ Technology – Easy set up and smart data logging capabilities all accessed via the intuitive 3 button menu.